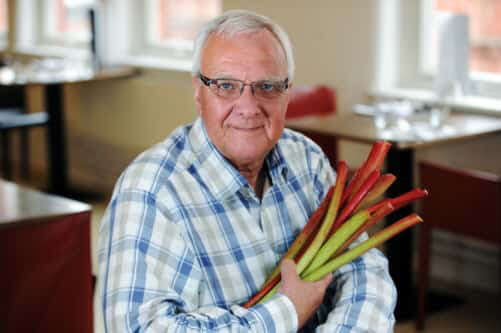 Gordon Sibbald
1947 – 2014
Gordon was a very dear friend and colleague to many within PACE, and the Hospitality sector. I think it's fair to say that Gordon Sibbald had PACE stamped right through him, like a stick of Blackpool rock! The last time I saw Gordon was when he popped over to Bibis restaurant in Leeds, and joined my family, to drop off some PACE documents before he popped off to Australia to plan his retirement – so that I could carry out PACE transactions whilst he was away! Such was his dedication to PACE.
Sadly soon after Gordon's return to the UK he was taken ill and we lost our very dear friend, just 6 short months after his retirement.
Gordon was an Executive Director of PACE, plus Company Secretary. Previously Gordon had been Treasurer and an active member of the National Association for Heads of Catering (NATHOC).
We made the decision in 2002 to form a professional Association which would support all FE professionals, not just managers.
PACE was launched in 2003, with Jim Armstrong as PACE Chair, and Gordon as Company Secretary. I remember him buying the PACE domain for £50 during one of our initial meetings!
Those of you who knew Gordon and Jim will remember what a great double act they were! Great friends and colleagues for many years.
Gordon was a great mentor to many, and was a very generous kind person who cared and looked after his family, friends, colleagues and students. I personally learned a lot from him, and since taking over from him as PACE Company Secretary, I appreciate the systems he put in place, and the received wisdom and advice he had given me.
In the spirit of Gordon's generosity, Geoff Booth and I set up the Gordon Sibbald Bursary Fund, so that we could provide some assistance to students who could use a little financial support.
We have given several grants out already, and the PACE Executive will continue to do so as our fundraising continues in honour of our great friend and colleague.
The article below (thanks to the Yorkshire Post) will give you a broader insight into the working life of Gordon Sibbald.
Sue Kenyon
PACE Company Secretary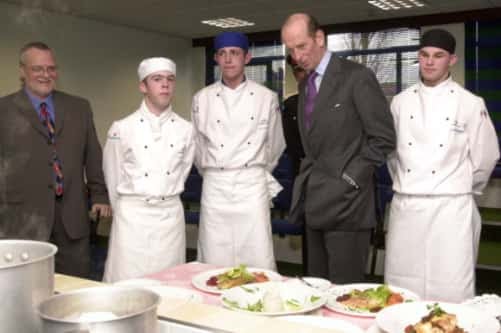 ---
The King of Rhubarb steps down, but still has the recipe to reign supreme
Gordon Sibbald, and below with the Duke of Kent at Wakefield College in 2002. Published: 09:12 Friday 05 July 2013 www.yorkshirepost.co.uk
He is the man who reinvented rhubarb and, over the past 34 years, helped nurture some of the region's top cooks. Rod McPhee met chef-turned-tutor Gordon Sibbald.
Chances are, few people outside of the catering industry will have heard of Gordon Sibbald. But within the sphere of food and drink – both locally and nationally – he is a something of a legend.
That's because for more than three decades the chef-turned-tutor turned out generations of restaurateurs, butchers, bakers and even chocolate makers. And it was all achieved during his time as head of the catering and hospitality departments at Wakefield College and Leeds City College.
Last week, he retired at the age of 66, but he did so safe in the knowledge that there is hardly an eatery, hospital, factory canteen or pub which hasn't, at one time or another, employed someone he helped to train.
Gordon said: "You sometimes sit and reflect, not too seriously, about the thousands of kids that have gone through your hands and that's what the buzz is.
"It's what keeps me feeling young.
"I've never looked back on my 34 years, but I can honestly say I have had an absolute ball."
He might not have attained the status of a celebrity chef – though he was a jobbing chef from his late teens to early 30s – nor has he made a name for himself as a top restaurateur.
Yet he is one of the low-profile gatekeepers of a multi-billion pound industry who nurtures and constantly feeds talent into the pool, both in Yorkshire and across the UK.
During his time at Wakefield College and Thomas Danby College (which later merged to become part of Leeds City College) he produced a string of chefs who went on to work at every top Yorkshire restaurant you can think of – Harvey Nichols in Leeds, The Devonshire Arms at Bolton Abbey and Rudding Park in Harrogate, to name just a handful
One of his nationwide star signings was former fish and chip shop worker Gemma Almond who came under Gordon's tutorship then went off to work in the hallowed kitchens of the Roux dynasty.
But in one regard he did make a name for himself – even if it was under the pseudonym, The King of Back in the late 1980s when he was working at what was then Wakefield Technical College, he was asked by the local council to lay on a civic dinner which incorporated this distinctive vegetable which is, after all, one of Yorkshire's finest exports.
Working in the centre of the "rhubarb triangle" (the area between Rothwell, Morley and Wakefield) he was determined to pull something spectacular out of the bag – and that's just what he did.
From there it snowballed, and Gordon found himself staging endless demonstrations at the college. He came up with endless inventive recipes using this surprising ingredient in both sweet and savoury dishes. What he effectively did was reinvent rhubarb as a key part of meals. Not just the occasional appearance in a crumble, but a food to be found alongside everything from pork and game to smoked fish.
And this ubiquitous use seemed to capture the imagination of the public, with a deluge of attention in the form of newspaper articles, not to mention some TV and radio appearances.
From there was born the annual Wakefield Rhubarb Festival – a red letter day on most foodies' calendars.
"One year we had a full page in The Guardian all about the rhubarb festival," says Gordon. "And this was read by the Duke of Kent who then wrote a personal letter to me asking us if we could recreate one of the demonstrations for him.
"So he came up with his bodyguard and sat there for about 90 minutes just watching, then he spent a bit of time talking to the students. He must have been there for a good two or three hours."
"Of course, the rhubarb triangle was known for years before this all happened. But it had died a death. There used to be 230 odd market gardens in the region growing it, but 15 years ago there was 20 left. The supermarkets drove the price down. It was sad. There used to be a rhubarb express which went from up here straight into Covent Garden."
But becoming the King of Rhubarb was far from Gordon's only outstanding achievement during his career.
In a bid to give his students the best possible start to their own careers, he first set up The Food Academy – a restaurant in the heart of Leeds helping pupils to learn every aspect of food preparation and delivery – then helped plan the ongoing move from the old Thomas Danby College site in Sheepscar down to a new centre at The Printworks on Hunslet Road. They're both achievements which he is obviously quietly proud of.
"The Food Academy isn't unique, but a venture of that nature is certainly rare," he says. "It was always something of a dream to set that up. As for 
The Printworks, it will be a 
unique set-up. State of the art – no other college in the country w
ill have anything like it. It's a concept bringing real commercialism into further education."
His pride also stems from the fact that he knows that Leeds City College has grown to become the best college of its kind when it comes to catering and food. Only two other institutions – one in Birmingham, the other in London – can compete.
But that's tinged with frustration that colleges don't quite get the recognition he feels they Gordon says: "I've always described further education as the Cinderella of education because nobody talks about it. Yet all of us in further education see there's a massive marketplace there that, surely, can really help the economy if we turn out the right graduates."
It's perhaps no coincidence that Gordon's time turning out skilled workers for the food and drink industry has run in tandem with a boom in cafés, gastropubs and restaurants in Leeds and the surrounding region. More importantly, hospitality has become a sector which has been the most resilient amid the recent financial downturn. But he is realistic about the mixed fortunes of the local dining scene. In Leeds, arguably the culinary capital of Yorkshire, he laments the recent loss of high class restaurant Anthony's saying: "I'm not sure if most city centres in general are ready for Michelin starred places to eat."
He also regrets the dearth of good Indian restaurants in the city, but is heartened by the emergence of more informal modes of dining not to mention the arrival of chains such as Jamie's Italian and, his favourite Leeds restaurant, Brasserie Blanc.
"We have to make sure we introduce people to food in a subtle way," he says. "And I think some of the chains are better quality than people give them credit for."
Although he has retired from his official roles, it's only really semi-retirement, since he's about to unveil a new catering and hospitality-linked project.
But he's not giving too much away as yet.
"It's to do with training and to do with a brand and a concept which isn't dissimilar to what we have down at The Printworks," he says. "But it's working outside of the further education sector and represents more of a private academy approach which could be a franchise."
He laughs: "After 34 years, here I am at the age of 66, just retired and I'm just about to start something else again.
"Never mind, I could never get the hang of golf anyway."
A life in food and drink…
BORN: Huddersfield, 
June 2, 1947
LIVES: Wakefield
FAMILY: Wife, Virginia. Son, Andrew. Daughters, Emma and Deborah
EMPLOYMENT:
Grand Metropolitan Hotels, North Berwick, Apprentice to Chef de Partie, (1965-67)
Queens Hotel, Huddersfield, Sous Chef, (1967-68)
Huddersfield Royal Infirmary, Head Chef, (1968-71)
Halifax Royal Infirmary, Head Chef, (1971-73)
Carpets International, Elland and Halifax, Catering Manager, 
(1973-78)
Wakefield College, Head of Department, (1979-02)
Leeds City College, Head of Faculty, (2002-13)